SHISEIDO Japanese Crystallizing Straight Perm
including Cut & Shampoo
Crystallizing Straight is the number one product for Japanese permanent hair straightening.
Japanese Straight Perm or Thermal Reconditioning is a new Japanese treatment technique developed in Japan that uses heat to restructure the bonds in your hair so the hair lies straight, giving you glossy, smooth, shiny straight hair that requires minimum blow drying!
You soften the hair with the use of a solution, restructure with a very hot flat iron, and re-harden the hair. Permanent silky, smooth, AMAZING, hair, the technique is fairly to sydney.
whatever hair is treated will stay straight permanently and only the re-growth needs touching up!
The hair is shinny and permanently straight it is life changing. We used to be so limited with straightening; now anything is possible to remove some curl or all of the curl, its wonderful. Some of our clients have struggled with the blow dryer and flat iron for an hour or longer just to have the curl and frizz return after a few hours or less. They no longer have to worry that if it humid or moisture is in the air their hair will frizz again. Husbands and boyfriends no longer have to wait for hours before going out.
Shiseido Professional's best seling products. It is for hair straightening.
CRYSTALLZING STRAIGHT has further evolved into a higher stage through the applications of breakthrough skincare technology. With the addition of a hair care line developed for uncompromising hair care; from the inside and outside the hair, Thermal Straight's effect has been maximised.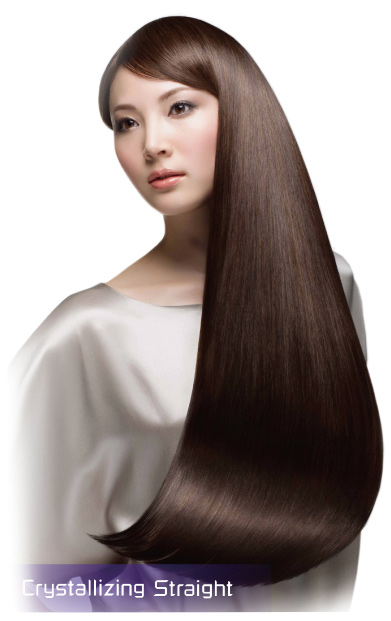 | | |
| --- | --- |
|  Front Section | $145-175 |
| Half Regrowth | $195-215 |
| All Regrowth | $265-305 |
| All Full | S $295  M $305 L $325  VL $345 |
+ digital perm + $75
*All prices are subject to change. Acknowledge.